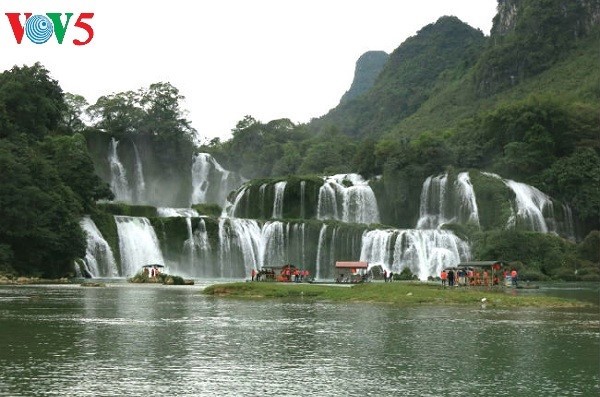 Ban Gioc waterfall in Cao Bang
Non Nuoc Cao Bang, about 300 km north of Hanoi, covers more than 3,000 sq.km over six districts which are home to different ethnic minority groups: Tay, Nung, H'mong, Kinh, Dao, and San Chay.
This is the second UNESCO-recognised Global Geopark in Vietnam after Dong Van Karst Plateau in Ha Giang province, which received recognition eight years ago. Ambassador and Head of the Vietnam UNESCO Mission Tran Thi Hoang Mai said: "According to UNESCO experts, the park meets all the criteria of a global geopark. It is large enough to have an economic impact in the region. It also has geological value. In Non Nuoc Cao Bang park, there are more than 130 geological heritages, many of them precious. The park's rich values are reflected in its landscapes, biodiversity, culture and history."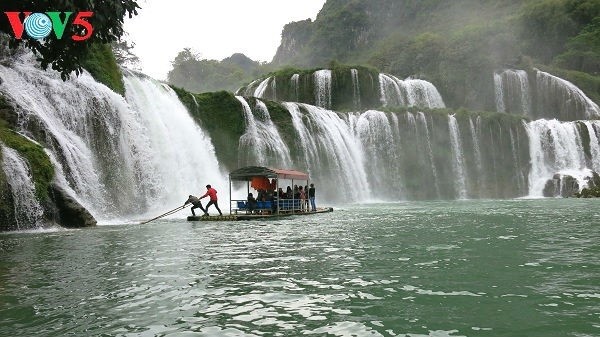 In the Non Nuoc Cao Bang geopark, geologists have found more than 130 geological heritages of different terrains and diverse scenic lime deposits. It embraces a number of tangible and intangible cultural heritages, particularly the Pac Po Special National Relic site, where, in 1941 President Ho Chi Minh came back to Vietnam to led Vietnam's revolution after 30 years travelling overseas; Tran Hung Dao Forest Special National Relic site, where in 1944 General Vo Nguyen Giap set up the Vietnam Propaganda Liberation Army; the predecessor of the Vietnam People's Army, and Ban Gioc Waterfall, one of the world's most beautiful waterfalls. Non Nuoc Cao Bang Geopark is famous for its biodiversity, rich ecosystem, and many varieties of endemic flora and fauna species.
Cao Bang province has invested in technology and standardized human resources to promote the geopark. It has strengthened communications and promotion of the park and local culture and tradition to attract more visitors. Hoang Xuan Anh, Chairman of the Cao Bang Provincial People's Committee, said: "We attach importance to developing the global geopark to ensure sustainable socio-economic development. We're developing a management plan at the request of UNESCO and the Global Geopark Network, upgrading the infrastructure, strengthening human resource training, expanding partnership network, increasing communications, raising people's awareness, and organizing seminars and workshops on geopark management."
There are 127 UNESCO-recognized global geoparks in 35 countries around the world. The UNESCO recognition will encourage Cao Bang province to work harder to protect the environment, its heritages, and its culture.
Nguồn: vovworld.vn