Under a community art exchange project funded by the Korea Foundation, UN-Habitat, and the Hoan Kiem district People's Committee, Vietnamese and Korean artists and the Nguyen The Son painter group drew mural paintings on the walls along Phung Hung street.
The paintings depict memories of Hanoi and old features that still linger in Hanoians' minds: Hang Ma street during the Mid-Autumn festival, the Trang Tien Department Store, a street corner in the Old Quarter with street vendors and a schoolgirl on her way to school. Painter Nguyen The Son explained: "Contemporary art is for the first time displayed on the street. A contemporary art project involves not just drawings but also other media like photography, 3D paintings, carvings, and interactive games. We had to research the history of the walls on Phung Hung street and the history of the Hanoi Old Quarter."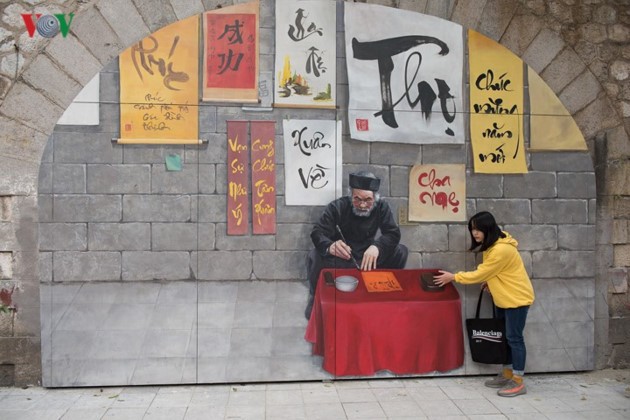 The murals on Phung Hung street highlight fine traditional and cultural values of thousand-year-old Hanoi. Phung Hung was once a motorbike selling street. An old motorbike and a public water tap with a long queue takes people back to Hanoi in the subsidy period. Painter Son again: "The murals remind people of bygone activities in Phung Hung street and other parts of Hanoi. The community art is associated with Hanoi's landscape and awakens memories of Hanoi."
Since its debut, the mural street has drawn crowds of visitors. Pham Huyen Thuong lives in Hanoi's Tay Ho district: "The murals in Phung Hung street recall the oldies of Hanoi. They are fascinating. The painters must be people who love Hanoi. I will tell my friends to check out this street to see typical features of old Hanoi like the old Department Store and Hang Ma street."
Phung Hung mural street is not just a place to visit and take photos. It's also a recreation space with painting experience and folk games. Nguyen Thanh Hung, who lives in Dong Da district, visited the mural street with his wife and son: "The murals on Phung Hung street sketch old features of Hanoi. They are very beautiful. This is a destination for my family at the weekend."
Paintings and activities on Phung Hung street help preserve and promote the heritages of Hanoi and enable locals and visitors to learn more about Hanoi's culture.
Nguồn: vovworld.vn