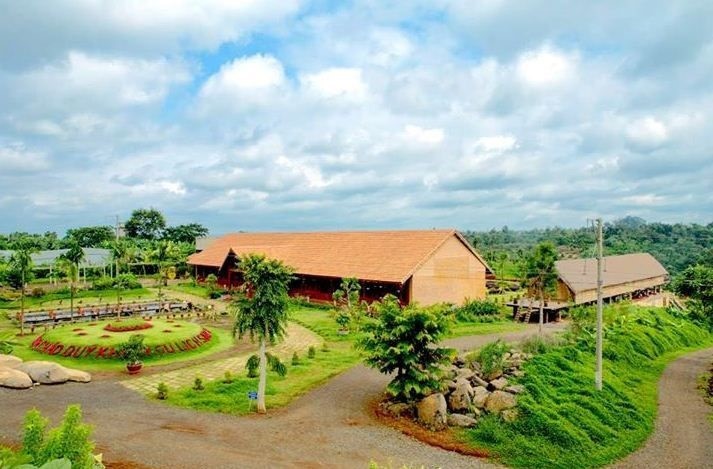 Photo: kotam.vn
Covering more than 17 ha, the Ko Tam eco-tourist site is based on the combination of natural settings and distinctive architecture like E De traditional long houses, upstream water wharf, and a wood statue garden. Traditional customs, practices, and festivals of the Ede, especially those during major occasions have been maintained. A local festival is characterized by a bonfire, the sound of gongs, the wine drink out of a jar through pipes, and the guest welcoming ritual.
H Sinh E Ban of the E De ethnic group is a tour guide in Ko Tam. She said this job helps her better understand her group's traditional culture and introduce it to visitors: "This ecological tourist site is built to protect the culture of local ethnic minority groups including the E De. Tourism makes the E De culture better known to both Vietnamese and foreign people."
Vu Vo Thuy Dung is a visitor, who participated in a performance night: "In Ko Tam, I enjoyed xoang dance and gong performances performed by local artists. They are very special and embrace the Central Highlands identity."
Located near Buon Ma Thuot city, Ko Tam has been drawing plenty of visitors in recent years. These days, everywhere is decorated beautifully in order to welcome visitors. Nguyen Thi Ngoc Anh, Chairwoman of the Board of Directors of Ko Tam Community Tourism Company, said the village is capable of receiving 10,000 visitors a day with various cultural activities: "The Ko Tam tourist site represents the E De culture. During major occasions and festivals, we organize gong exchanges involving local patriarchs and artists. We also organize boat races and other competitions and provide visitors with typical local dishes."
Ko Tam is compared to a colorful and romantic landscape photograph, which depicts the unspoiled nature and beautiful culture of the E De.
Nguồn: vovworld.vn